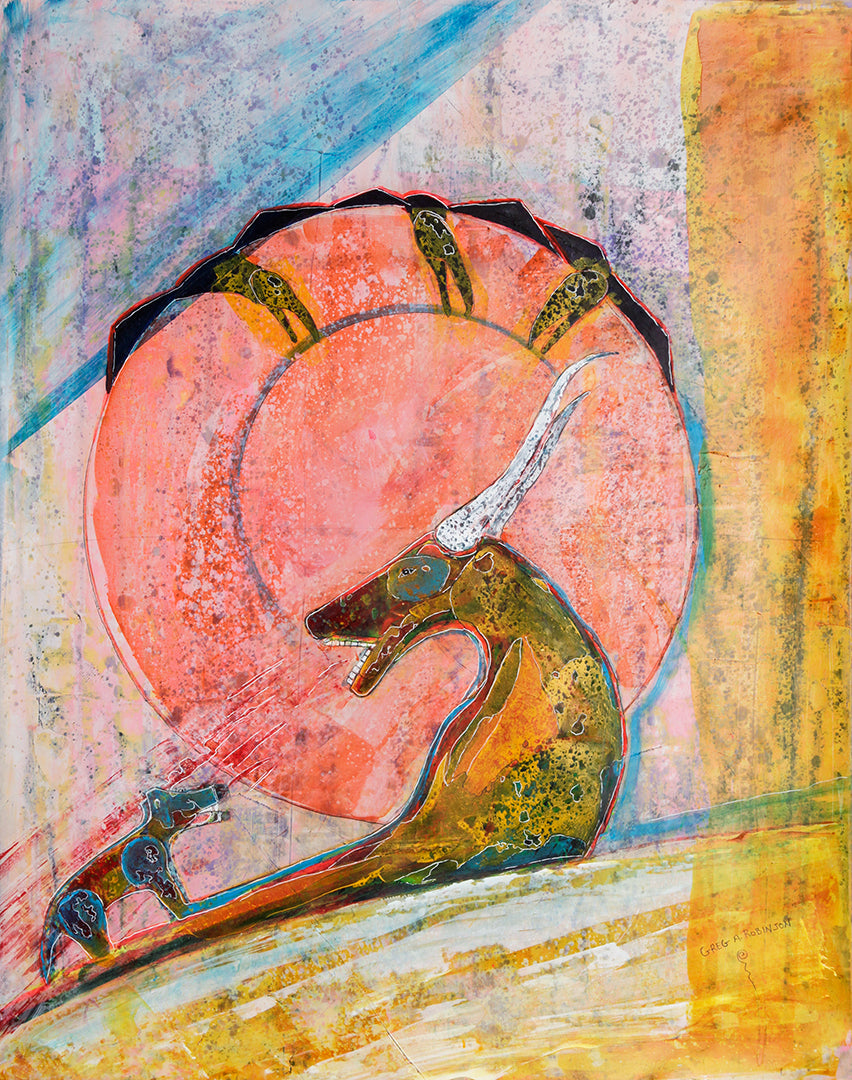 Counsel, 2018, Greg A. Robinson
Regular price $1,600.00 Sale
Counsel, 2018, Greg A. Robinson, Chinook Nation, Washington State, acrylic on paper, 24" high x 19" wide paper size.
Elk is in counsel with the wise aunty crows and the trickster coyote. He realizes coyote has been misleading him, and chastises him for it. 
The Chinook Indian Nation is a confederation of the five most western tribes, the Lower Chinook, Clatsop, Willapa, Wahkiakum and Cathlamet located in SW Washington State near the mouth of the Columbia River.
Greg Robinson, born in 1957, is a member of the Chinook Indian Nation located in Bay Center, Washington. Primarily self taught, Robinson has been an artist since childhood, with an early fascination for wildlife and tribal art after receiving a small carved canoe as a gift. He sold his first work of art in junior high school. His past and current works in the traditional Chinookan art forms are a tribute to the Columbia River ancestors, to whom art, life, stories, and culture were inseparable. Through his art and instruction he hopes to inspire future Chinookan artisans.
Robinson produces a variety of work in the style of the Chinookan peoples of the middle to lower Columbia River and Willapa Bay. Working primarily in wood, large stone, bone and hide, he draws inspiration and technical knowledge from the study of ancient works in various private and museum collections, including the Portland Art Museum.
In the Fall of 2003, construction began on a full scale traditional plankhouse at the archeological site of Cathlapotle, a settlement of the Chinookan people located in the present day Ridgefield National Wildlife Refuge. Robinson was the acting construction manager and tribal liaison for the project, overseeing the preparation of the red cedar logs and advocating for the traditional aspects of the house. He received the Deptartment of the Interior's Cooperative Conservation Award in 2005 for his involvement in the project. 
In addition to creating art, Robinson contracts for the Confederated Tribes of Grand Ronde as an instructor for the Lifeways cultural program, teaching a variety of carving, painting, design, and outdoor curriculums for tribal members. You can view Robinson's public art commissions at the Multnomah Falls National Scenic Park in Oregon and the Parkersville Historic Park in Camas, Washington