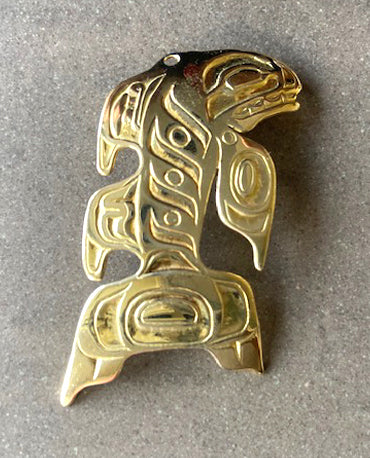 Pin / Pendant Depicting Dogfish, Design by Dorothy Grant, Haida First Nation
Regular price $1,500.00 Sale
Pin and Pendant Depicting Dogfish
Design by Dorothy Grant, Haida First Nation
Cast 18k gold
3 1/4" long x 1 1/4" wide
Dorothy Grant was born in Hydaburg, Alaska, 
but was raised in Ketchikan. 
She is a Kaigani Haida 
of the Raven Clan from the Brown Bear house of Howkan.
 Her family crests include Two-Finned Killer Whale, Shark, Berry Picker in the Moon, and Brown Bear.
 Her
 strong connection to her culture and Haida identity has been the driving creative force and her foundation as a contemporary fashion and jewelry designer for over the past thirty-two years.

Grant's success is evident by her invitations to participate in many prestigious art and fashion exhibitions. She is the recipient of numerous awards, and her work is featured in 13 museum collections across Canada, United States, and United Kingdom. In May 2015, Dorothy received the "Order of Canada" for her contributions to Canada's fashion industry and for mentoring youth through her example as a designer and entrepreneur.