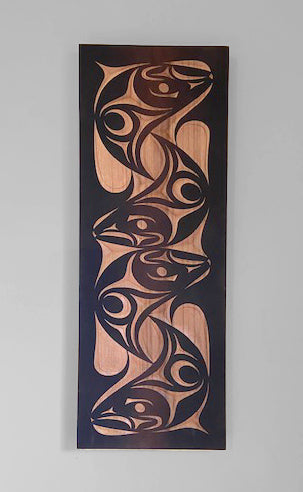 Salmon Run I by Andy and Ruth Wilbur Peterson, Skokomish
Salmon Run I
by Andy and Ruth Wilbur Peterson, Skokomish
red cedar, brown pigments
24" high x 9" wide x 1" deep
Andy Wilbur Peterson is a member of the Skokomish (Twana) Nation. He was born in Shelton, Washington in 1955, and has lived in the Skokomish community all of his life.
At the age of twelve, he became aware of his culture. It was then that he learned to make baskets, and to gather basket materials with Skokomish elders Louisa Pulsifer and Emily Miller. After some experimentation in different mediums he became inspired to try carving after a tour he took at the Capital Museum in Olympia, Washington.

At the age of eighteen, Andy taught himself how to carve, paint and make bentwood boxes. His early work was mostly in the Northern style because that was most available and visible in order to learn from. Today, Andy's work not only includes bentwood boxes, but drums, rattles, masks, paddles, speaker staffs, bowls and totem poles.
In 1987, Andy graduated from the Evergreen State College with a B.A. While attending Evergreen, he assisted Makah artist Greg Colfax in carving a 12' Woman Welcoming Figure for the campus. Through this experience he became inspired and started researching Salish style art. His research began in the archives of both the University and Capital Museums. Later visits to the University of British Columbia broadened Wilbur's knowledge. Another educational influence was the work of Andy's great grandfather, Henry Allen, an artist talented at both carving and storytelling. Allen was also the major informant of an ethnographic study of the Twana People.
Andy continues to contribute to the revival of Salish art in many ways. Over the years he has taught carving, graphics and painting classes to people of all ages at many schools and to many Tribes. Most importantly, he passed on his knowledge to his daughters Andrea Wilbur Sigo and Malynn Wilbur Foster, and to his wife Ruth Wilbur Peterson, who are now full time artists carrying on the tradition.