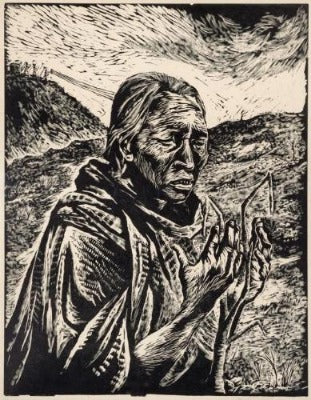 La Sequia, 1950 by Fanny Rabel (1922-2008), Mexico
Regular price $800.00 Sale
La Sequia (The Drought), 1950
by Fanny Rabel (1922-2008), Poland / Mexico
Linoleum Cut
24.25" high x 20.25" wide
Fanny Rabel (1922-2008), born Fanny Rabinovich, was a Polish-born Mexican artist who is considered to be the first modern female muralist, and one of the youngest associated with the Mexican muralism movement of the early to mid 20th century.
Fanny grew up on the move, as her parents were actors in a popular Yiddish theater. As the dust of the Great War settled, the Rabinowicz family decided to leave the country. Initially, in the late 1920s, Paris became their haven. Then, in 1938, when Mexico opened its borders to European refugees, the family moved there.
She studied art at the Escuela Nacional de Pintura, Escultura, y Grabado "La Esmeralda," where she met and became friends with Frida Kahlo. She became the only female member of "Los Fridos" a group of students under Kahlo's tutelage. She also worked as an assistant and apprentice to Diego Rivera and David Alfaro Siqueros.
Diego Rivera wrote about how her art echoed the fleeing of repression: "Those painful experiences have honed her perceptiveness, radically sharpened her senses. They permitted deep self-exploration, fundamental to art creation. It was bitterness, indeed, both inherited and present as well as the certainty of inevitability that stand out in Fanny's work. Work that actively contributes to the young Mexican painting."
Painting a number of murals of her own during her career, the most important of this is Ronda en el Tiempo at the Museo Nacional de Antropologia in Mexico City. 
Fanny held her first exhibition in 1945 at Liga Popular Israelita. In a text written for the exhibition, Kahlo wrote: "Fanny Rabel paints as she lives, with great courage, immense sensitivity and intelligence; there's all the love and cheerfulness you have at the age of twenty...She focuses mostly on class divisions. The characters and traits of her models are studied with exceptional maturity, and always endowed with vivid emotions. She does all that with great modesty, immense tenderness and femininity which make her so perfect.
Fanny condemned indifference to suffering, hypocrisy, violence and prejudice. In 1949, she joined Taller de Gráfica Popular, a collective of young artists that pleaded for universal access to art, aimed at serving society. She created book and press illustrations, designed diaries, posters, postcards and invitations to social and political events. She actively advocated for women's rights and environmental protection.
Twenty seven of Rabel's prints were featured in an album entitled Niños de México (Kids of Mexico), published on the tenth anniversary of her membership in the group. It was acclaimed by critics, who particularly appreciated her simplicity and sensitivity in depicting human suffering. Aside from deeply touching images of childhood, Rabel took on poverty and exploitation. She also depicted the folk rituals of the Mexican peoples. For her, even a landscape had a human touch to it.
Fanny's work is in the permanent collection of numerous museum and private collections around the world including the Museum of Modern Art in New York, The LIbrary of Congress in Washington DC, the Museum of Modern Art of Mexico, the Bibliotheque Nationale in Paris, and the Royal Academy of Denmark. Rabel died on 25th November 2008, aged 86.