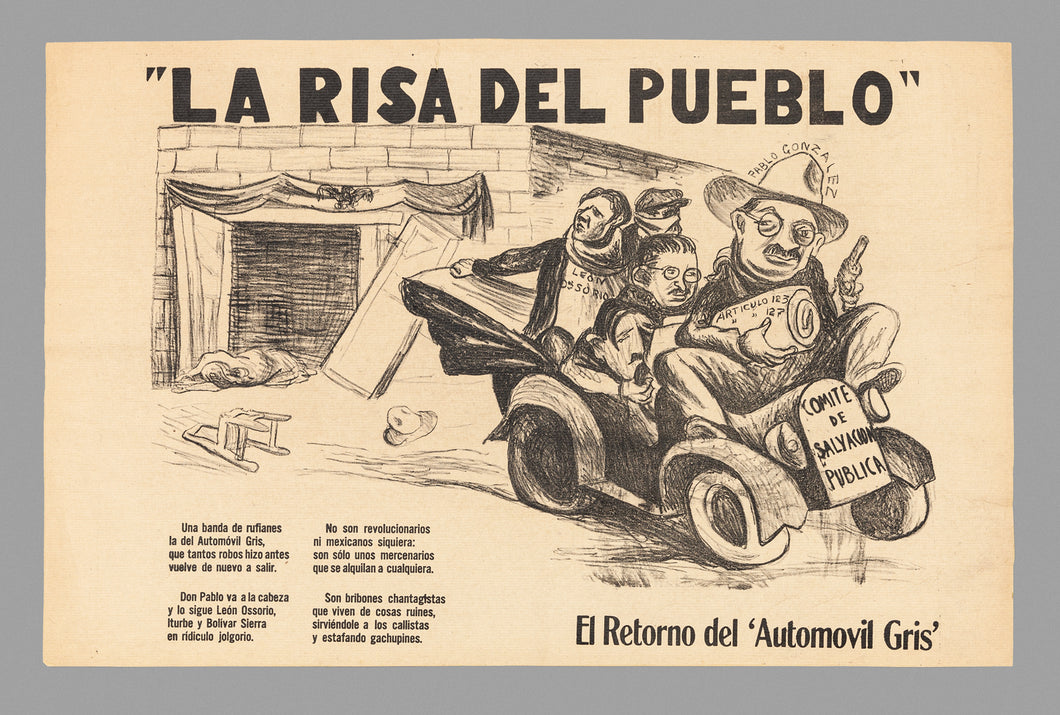 La Risa Del Pueblo (Laughter of the People), 1939 by Alfredo Zalce (1908-2003)
Regular price $800.00 Sale
La Risa Del Pueblo (Laughter of the People), 1939
by Alfredo Zalce (1908-2003), Mexico
Original Poster
15 15/16" h x 26 3/8" w, paper size
excellent condition
Alfredo Zalce's poster La Risa del Pueblo takes on the aspect of a political cartoon. By juxtaposing text and image, the artist creates caricatures of contemporary political figures in order to denigrate them. Five figures—one a generic bandit and four labeled as Pablo González, Leon Ossorio, Iturbe, and Bolívar Sierra—are crowded into a gray car, the "automóvil gris." They escape from a building they have raided, leaving a woman lying in the doorway.
The labeled caricatures would have resounded with the viewing public. During the revolution, Pablo González was involved in a network of thieves called the Banda del Automóvil Gris, who broke into homes by wearing police uniforms and showing fake search warrants. González was also a politician, and in 1919 he made a bid for the presidential candidacy. In order to change his image, he produced an extremely popular movie, El automóvil gris. This plan back fired, however, only cementing his reputation as a dishonest politician. 
In the print, González sits at the front of the automóvil gris, with the late-1930s politicians Ossorio, Iturbe, and Sierra behind him. By including the anachronistic  figure of González, Zalce indicts these contemporary politicians as corrupt. The three were part of the Comite de Salvación Pública, a vehemently anticommunist and anti-Cárdenas group, and thus were opposed to the political ideologies of the Taller de Grafica Popular (TGP). Zalce has exaggerated their features to make them easily identifiable to the Mexican public. The stolen scroll tucked under González's arm, labeled as articles 123 and 127 of the 1917 Mexican constitution, also refers to the dishonesty of these politicians. The theft of these articles, which preserved the right to strike and prevented government officials from increasing their own salaries while in office, highlights the threat posed by these politicians.

At the bottom left, a poem further condemns the clown like characters of the automóvil gris, denouncing the group as "not revolutionaries, nor even Mexicans." Through this distinctive, morbid comedy, Zalce has created a recognizable propagandistic image and a defense of President Cárdenas's politics.
Alfredo Zalce was born in Patzcuaro, in the state of Michoacan, on January 12, 1908. During his early years he became friends with Mexico's older great artists, including Rivera, Tamayo, Siquieros, Orozco, and Kahlo. He founded art schools and organizations which still function and are of current importance. When the President of Mexico last visited the Vatican, the one gift from Mexico chosen as a gift to the Pope was a small painting of a Mexican village painted by Maestro Alfredo Zalce.
Unlike other artists, Zalce has spent an entire lifetime avoiding fame and fortune.  He simply wants to paint. His artistic versatility is partially demonstrated by his total mastery in producing art with oil, acrylic, batik, pencil, watercolor, engraving, serigraph, bronze, stone, ink, pastel, ceramic, monotype, and on and on. His art has been exhibited in every country of the free world, and his numerous gigantic murals and statues represent a vital part of Mexican history.