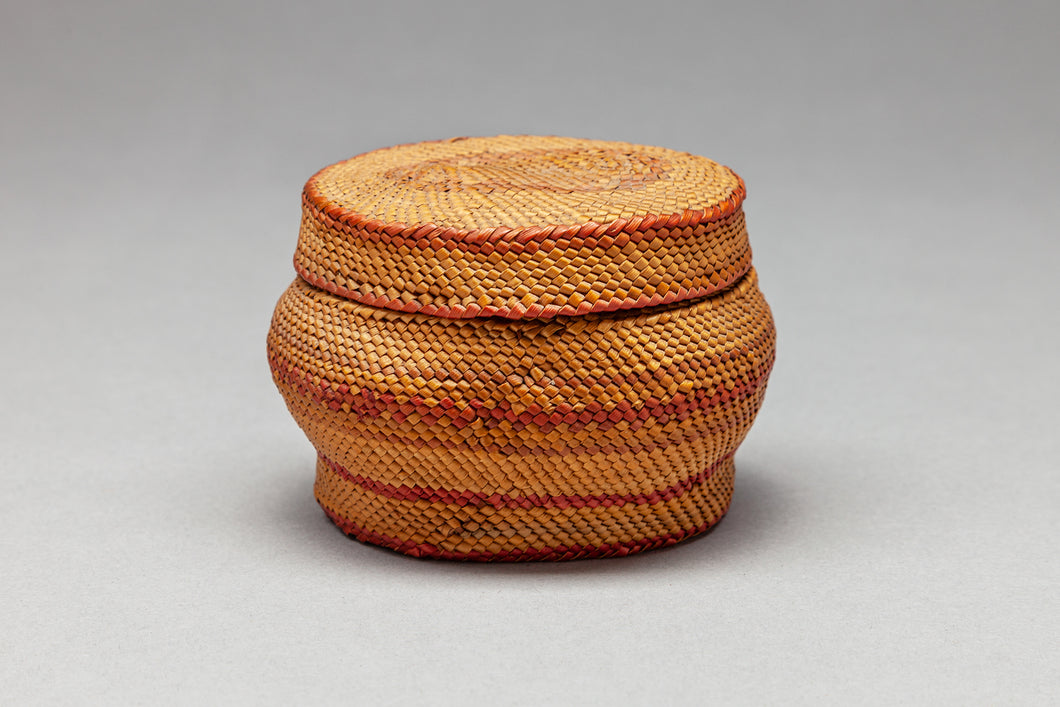 Historic Lidded Makah Treasure Basket, c. 1920
Regular price $100.00 Sale
Extremely Fine Makah Lidded Basket, c. 1920
Nuu-Chah-Nulth Basketry
red cedar, bear grass, aniline dye
2.25" h x 3" diameter
excellent condition


Basketry of the Makah
The Makah, or Qwiqwidicciat (people of the cape), appear to have lived and prospered on the Olympic Peninsula of Washington state for the last four thousand years. While they still live in the vicinity, their tribal lands today are only a small proportion of their original homeland.
The textile crafts have always been important to the Makah with weaving, spinning and basketry being particularly important craft skills. The Makah produced clothing, blankets and rugs as well as a wide range of basketry. Although Makah basketry techniques and skills are similar to those found along large sections of the coast including Washington and British Columbia, this does not mean that very local variations in technique and finish did not exist. Indigenous people along the Northwest coastal region had a range of individual styles and pattern work that made their basketry weaving unique to their own local community.
Cedar bark has always been one of the main materials used within Makah basketry weaving. Raw materials were collected over the spring months when the bark was more easily stripped from young cedar trees. Only the innermost bark was collected, which was then dried and stored. In the long winter months the women who were the basket weavers, produced a range of basketry for domestic use.
Although cedar bark has always been considered the most common aspect of Makah basketry, it was by no means the only material used. Other forms of bark, roots and grasses were incorporated into the weave. The nature of the material would depend on the use that was to be made of the finished basket.