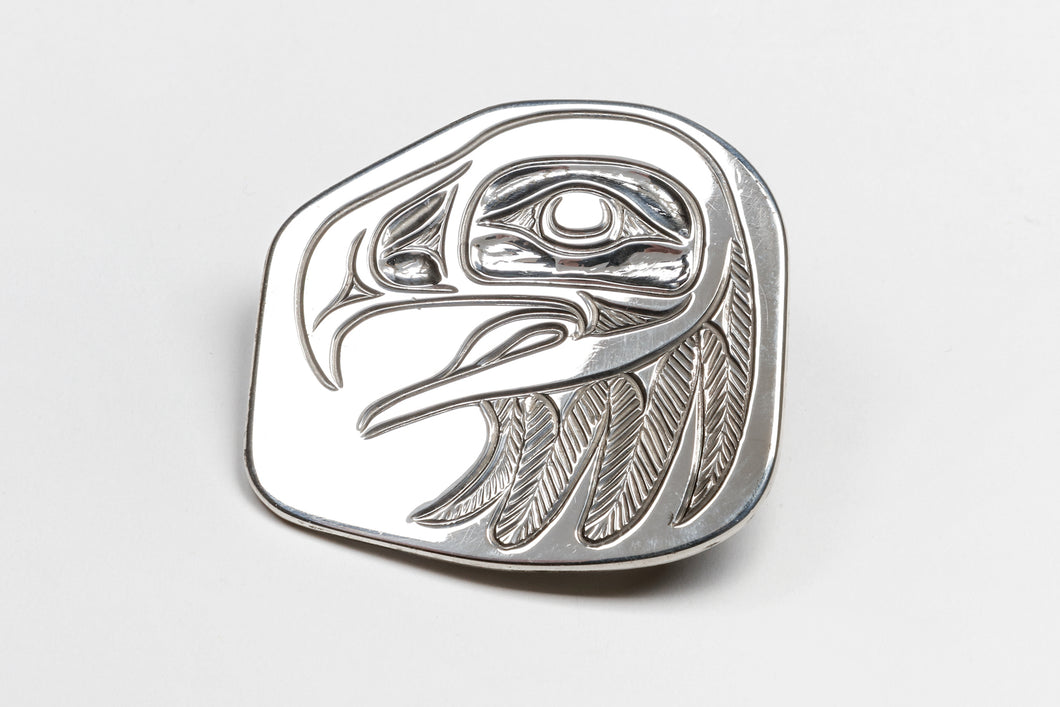 Northwest Coast Eagle Belt Buckle by Bill Helin, Tsimshian
Regular price $500.00 Sale
Northwest Coast Eagle Belt Buckle
by Bill Helin, Tsimshian First Nation
Hand carved sterling silver
2" high x 2.25" long, for a 1" belt
Bill Helin's proud First Nation heritage has played an important role in his growth as an artist. Helin is of the Tsimshian Indian Nation, born and raised  in the Northwest coastal community of Prince Rupert, British Columbia.  His Grandfather, Henry William Helin, was Chief of the Gitlan Tribe, and his Grandmother, Maud Helin, was Chieftainess of the Gitgeese Tribe.  They raised a family of seven in the remote Northwest coast Indian village of Port Simpson, B.C.
When his Grandmother came to live with his family, Bill spent many hours listening as she spoke of the ways of the past. Through his 'Granny', Bill learned first hand the many legends of the Tsimshian. Helin's artistic nature was evident even at a very early age.
For the most part, Helin's artistry is self-taught.  He learned from books, and was soon mastering techniques such as three dimensional forming in jewelry  making called repousse. Several jeweler friends provided him with valuable tips on gem settings and they encouraged and inspired Bill to continue learning.
In 1973, Helin moved with his family to Nanaimo on Vancouver Island, where he graduated from Nanaimo Senior Secondary School, winning the prestigious Michael Gergley Arts Scholarship in 1979.
Several years later, he took up woodcarving. At about this time, artist friend Art Sterrit was so taken with his work that he sponsored Bill to attend the prestigous K'San Indian Art and Carving School in Hazelton, British Columbia. Since then, Bill Helin has not looked at any other vocation.  First, he concentrated on silver carving of jewelry, then gold.  He also enjoys the woodcarving of bowls, paddles, masks, panels and totems.
Today he lives and works from his studio and home on Vancouver Island.